DELAYED:
Engine Vents for the DeAgostini Falcon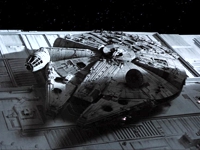 DELAYED: Unfortunately an artwork problem that went unnoticed in the prototype sheet has reared its head on the first production run. I have scrapped the run and am reworking the tooling. I expect at least a 2 to 3 week delay until these ship.
Replace the six molded in engine vent screens with ones similar to those used on the five foot "ANH" Falcon.
NEW!
Xuron Micro-Shear®

Our line of tools is now expanded with Xuron's Micro-Shear® flush-cutting sprue cutters.
Engine Grill for DeAgostini Millennium Falcon
Add engine grills that look great even when the lights are turned off! Includes photoetch and backlight films.
Hasbro Millennium Falcon
ParaGrafix is supplying Randy Cooper's Models with photoetch for the large Millennium Falcon from Hasbro.
No, we will not be making a cockpit photoetch set for this kit because there is no underlying structure for it.
CLICK HERE to contact Randy about this product.
Shuttlecraft Galileo Restoration Photos
Recently I was fortunate enough to visit the original Galileo twice — once while she was still in primer and then during her "launch" party. Soon she will be in her permanent home at Space Center Houston. Here are the photos I took:
Join me at Wonderfest
I'll be at Wonderfest again this year. I won't have a table, but will be slouching about here and there — you'll be able to find me pretty easily as I'll be wearing the shockingly yellow shirt with the ParaGrafix logo on it.
NOW SHIPPING!
Moebius Proteus Photoetch Set
Enhance every control panel in Moebius Models' new Proteus Submarine kit ... plus so much more!
Gun Port Photoetch for DeAgostini Millennium Falcon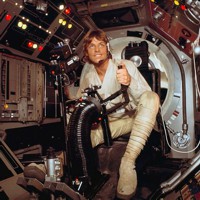 Super detail the interiors of the gun ports with lightable control panels and more accurate shape.
NEW! Clamshell Style Easy LED Solderless Connectors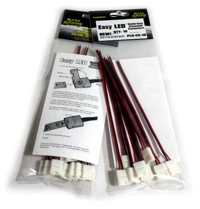 New, easy-to-use solderless connectors for use with both standard and HD Easy LED Strips. Available in 2, 4, 10, and 30 packs.
Easy LED™
The Simple Lighting Solution
Twice the number of LEDs as standard Easy LED! Now available in Cool White, Red, and Blue in addition to the original Warm White.
Standard

HD

Cool White

Warm White

Red

Green
Now in HD

Blue

Yellow
Now in HD