WE'RE MOVING !
ParaGrafix has outgrown our current office space and over the next few weeks we'll be moving into our new offices in a historic, 100+ year old jewelry factory. With almost triple the current space we'll be more streamlined and will (hopefully) be more efficient.
Please be patient throughout January 2016 as there may be some delays due to setting up the new location as well as the inevitable items that get misplaced during the move.
NOW SHIPPING!
Corridor Photoetch for DeAgostini Millennium Falcon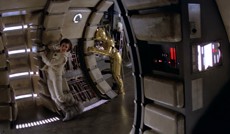 Add accurate flooring, control panels and wall sconces to the Falcon's corridors. Includes removable smuggling panels.
Shuttlecraft Galileo Restoration Photos
Recently I was fortunate enough to visit the original Galileo twice — once while she was still in primer and then during her "launch" party. Soon she will be in her permanent home at Space Center Houston. Here are the photos I took:
NEW SHIPPING RATES
Please note that we have updated our shipping rates.
US rates have gone up slightly for Priority Mail shipments, but now up to 4 items can ship via First Class. More info ...
International rates have actually gone down. We have eliminated the Registered Mail requirement and are changing to using boxes to ship out items instead of flat mailers which can be tracked in most countries. More info ...
Canada and Mexico are now finalized and have gone down as we now ship in trackable boxes via First Class. More info ...
Easy LED™
The Simple Lighting Solution
Twice the number of LEDs as standard Easy LED! Now available in Cool White, Red, and Blue in addition to the original Warm White.
Standard

HD

Cool White

Warm White

Red

Green
Now in HD

Blue

Yellow
Now in HD
Hasbro Millennium Falcon
ParaGrafix is supplying Randy Cooper's Models with photoetch for the large Millennium Falcon from Hasbro.
No, we will not be making a cockpit photoetch set for this kit because there is no underlying structure for it.
CLICK HERE for more information and to order.