Frequently Asked Questions
Most of our most Frequently Asked Questions have now been assembled in one place. Do you have questions about shipping, custom photoetch, returns, credit cards, damage, etc.? Then check out our answers. (Yes, every one of these questions has been asked.)
NOW SHIPPING!
Photoetch for the DeAgostini Falcon Hold
Super detail the hold with super-accurate flooring, control consoles, and door rings.
NEW!
Colonial One Window Templates
Enhance the "Battlestar Galactica" Colonial One model kit from Moebius Models with windows suitable for lighting.
Read more ...
Hasbro Millennium Falcon
ParaGrafix is supplying Randy Cooper's Models with photoetch for the large Millennium Falcon from Hasbro.
CLICK HERE for more information and to order.
NEW! Easy LED HD in Green & Yellow!
For more info CLICK HERE
NEW! Hold & Place Pencil
Easily hold and place small parts – simply tap the item to grab it, then twist to release.
Read more ...
TOS Bridge Display Screens
Bring the venerable Original Series bridge kit from AMT to a whole new level of realism. This photoetch/backlight film combination pack features spot-on graphic display screens (in the correct sizes and aspect ratios) for all of the small and large monitors
Read more ...
Shuttlecraft Galileo Restoration Photos
Recently I was fortunate enough to visit the original Galileo twice — once while she was still in primer and then during her "launch" party. Soon she will be in her permanent home at Space Center Houston. Here are the photos I took:
NOW SHIPPING!
Cockpit Photoetch for DeAgostini Millennium Falcon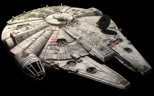 Update the cockpit of DeAgostini's fantastic Millennium Falcon subscription kit.
NOW SHIPPING!
Duplicate Decals for the DeAgostini Falcon Cockpit
Extra / Replacement Decals for the DeAgostini Falcon Cockpit Photoetch Set.
NEW!
Interstellar Ranger Etch

Super detail the Ranger from Moebius Models with flush window frames, fueling ports, and much more ...
NEW!
1/72 X-Wing Fighter Etch

Add boarding ladders & engine exhaust inserts to the 1/72 scale X-Wings from Bandai and Fine Molds.
Read more ...
Easy LED™
The Simple Lighting Solution
Twice the number of LEDs as standard Easy LED! Now available in Cool White, Red, and Blue in addition to the original Warm White.
Standard

HD

Cool White

Warm White

Red

Green
Now in HD

Blue

Yellow
Now in HD

Purple
Easy LED™
Solderless Connectors
Easy LED is plug and play! Our solderless connectors make it easy to provide power to Easy LED strips. Just open the connector, insert the strip, and close the connector again. It's just that simple!