NEW!
Brian Johnson's Concept Hawk Cockpit
1/72 scale
Available for Preorder
Temporarily Out of Stock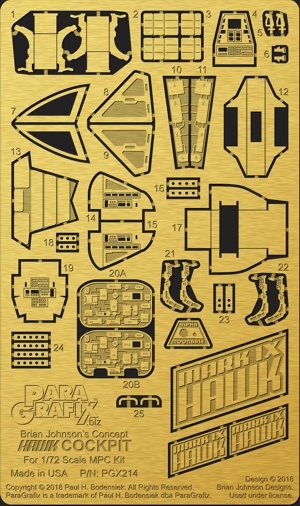 This set will begin shipping on or about June 12, 2018.
Famed British special affects artist Brian Johnson has shared his concept design for the Mark IX cockpit exclusively with ParaGrafix.
This new photoetch set brings his concepts to life and adds an interior to the new Mark IX kit from MPC.
The set includes a fully lightable* interior with seats, floor, walls, and more. Two separate rear walls enable the builder to run wires into the cockpit or not, depending on what is desired. The seats are designed to fit the pilot figures that come with Bandai's 1/72 scale Y-Wing fighter kit.
* Electronics not included.
FOR KIT: MPC881
Pricing & Ordering — This item is temporarily out of stock
This item is on Preorder status. Sending in the following form is a commitment to purchase at the price stated below. When the item is in stock and ready to ship, you will be sent a PayPal invoice. Payment of this invoice is required within 7 days to retain preorder priority.
Please note that because of logistics, at this time ParaGrafix does not accept preorders via any method other than a PayPal commitment. We appologize for the inconvenience.
Click Here for the Preorder Email Form.
<! -- Sale Specification Settings -->
Price:

$28.95

Part #:

PGX214

Scale:

1/72

Please allow 2 to 3 weeks for availability. This delay will not affect any other products you order in this session.

SHIPPING: This product ships at our standard shipping rate. See rate information and policies here.

WHOLESALE: This item is available for quantity sales at wholesale pricing. Contact ParaGrafix for details.

Click on a photo to enlarge.