<! -- Sale Specification Settings -->
NEW!
USS Voyager Photoetch Set
1/1000 scale
Available for Preorder
Temporarily Out of Stock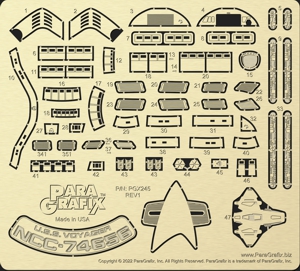 Update the 1/1000 scale USS Voyager kit from Polar Lights with raised-detail sensor pallets*, hinge covers, airlocks, and so much more! Includes easy-to-install light blocking panels for all clear window parts making lighting** a breeze.
This set is designed to be used by modelers of moderate experience.
Suitable for use with either the standard opaque and translucent ("clear") versions of the kit.
BONUS: An exact duplicate Aeroshuttle made directly from the original artwork used to layout the design on the filming miniature.
Special thanks to Rick Sternbach for his invaluable help in detailing this set, especially his sketch of the Aeroshuttle that was used directly for detailing the original filming miniature.
* Sensor pallet parts made to fit precisely with the kit's decals.
** Electronics not included.
FOR KIT: POL980M
Pricing & Ordering — This item is temporarily out of stock
This item is on Preorder status. Sending in the following form is a commitment to purchase at the price stated below. When the item is in stock and ready to ship, you will be sent a PayPal invoice. Payment of this invoice is required within 7 days to retain preorder priority.
Please note that because of logistics, at this time ParaGrafix does not accept preorders via any method other than a PayPal commitment. We appologize for the inconvenience.
Click Here for the Preorder Email Form.
Price:&nbsp

$33.95

Part #:

PGX245

Scale:

1/1000

Please allow 3 to 4 weeks for availability. This delay will not affect any other products you order in this session.

SHIPPING: This product ships at our standard shipping rate. See rate information and policies here.

WHOLESALE: This item is available for quantity sales at wholesale pricing. Contact ParaGrafix for details.

Click on a photo to enlarge.