<! -- Sale Specification Settings -->
Lost in Space Pod Photoetch
1:24 scale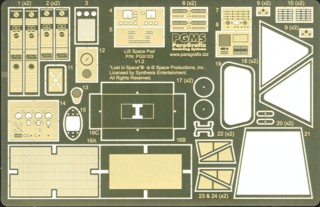 Enhance your Moebius Models' 1:24 scale Lost in Space Space Pod with this etched brass upgrade set.
Each piece has been exhaustively researched and in most cases panel designs have been scaled directly from high-resolution photographs of the actual filmining miniature. (Photos courtesy of Gary Kerr.)
Special thanks for Dave Prosser and Amazing Figure Modeler magazine for allowing us to use showcase Dave's buildup in the photographs at the bottom of this page.
See the review by John Lester at Starship Modeler.
Photo-Etch Includes:
All control panels
Interior window frames
Control panel handles
Alternate (direct kit replacement or accurate size) rear wall control panels
Joystick "adjustment knobs" and mounting panel girders
Front exterior sensors
Accurized exterior "radiator"
Door handles
Radio microphone
Decals Include:
Exterior "flags"
Interior LOX tanks
"Volt meters" for the main consoles
Printed by JT Graphics
FOR KIT: Moebius #901
Pricing & Ordering