<! -- Sale Specification Settings -->
Leif Ericson Photoetch Set
1/650 (ish) scale
Available for Preorder
Temporarily Out of Stock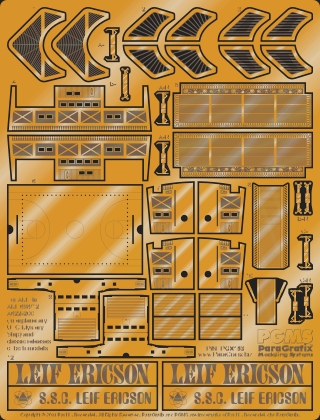 Modelers' requests have been answered, and Polar Lights has reissued the venerable Leif Ericson kit in its original form and packaging.
This photoetch set helps builders add extra details, and enhance the overall appearance of this nostalgic space ship.
This set includes:
Suitable for AMT698/12, A622-200 (Interplanetary UFO Mystery Ship) as well as the classic releases of both of these kits.
Grills for both the engine intakes and exhausts, including two different styles for the exhaust.
Complete detailing for the shuttle bay, plus options to allow for open cargo doors.
Shuttle bay door detailing.
Provisions for easy lighting of the shuttle bay. (Electronics not included.)
Forward and aft embarkation ramps.
Three different styles of landing gear for the shuttle.
Two different sets of nameplates for the stand: one featuring the box lettering and the other matching the kit's decals.
FOR KIT: AMT #s AMT698/12, A622-200, and classic issues
Pricing & Ordering — This item is temporarily out of stock
This item is on Preorder status. Sending in the following form is a commitment to purchase at the price stated below. When the item is in stock and ready to ship, you will be sent a PayPal invoice. Payment of this invoice is required within 7 days to retain preorder priority.
Please note that because of logistics, at this time ParaGrafix does not accept preorders via any method other than a PayPal commitment. We appologize for the inconvenience.
Click Here for the Preorder Email Form.
Price:

$34.95

Part #:

PGX153

Scale:

1/650 (ish)

Please allow 2 to 3 weeks for availability. This delay will not affect any other products you order in this session.

SHIPPING: This product ships at our standard shipping rate. See rate information and policies here.

WHOLESALE: This item is available for quantity sales at wholesale pricing. Contact ParaGrafix for details.

You might also be interested in:

Click on a photo to enlarge.