<! -- Sale Specification Settings -->
DeAgostini Falcon Corridors Photoetch Set
1/43 scale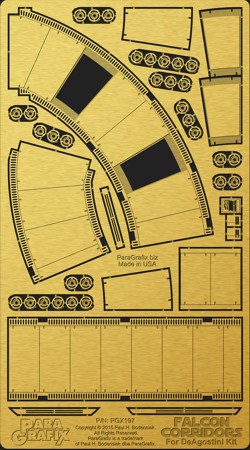 Super detail the corridors of DeAgostini's Millennium Falcon subscription kit.
Flooring includes the "grab insets" in the tiles and even has the two removable panels used to smuggle the heros in Episode VI. (Two sets of panels are included so they can be shown removed or installed, but still flush to the rest of the floor.)
Baseboard lighting grills are included so that the floor may be lit.*
Includes the Episode V and later round wall sconce bases, suitable for lighting. Sconces may be upgraded by adding tubing or rod**.
* Electronics not included.
** Tubing not included. Suggested materials: K&S Metals # 8101 (aluminum) or # 8126 (brass); Plastruct # TBFS-3 or Evergreen #223 plastic tubing; Plastruct # MR-100 or Evergreen #213 plastic rod.
FOR KIT: DeAgostini Subscription
Pricing & Ordering