<! -- Sale Specification Settings -->
NEW!
Etch Brite™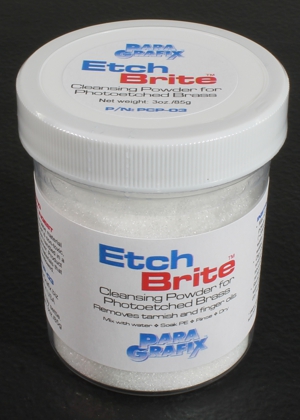 Introducing Etch Brite, the safe, non-toxic* cleaner for all your brass photoetched parts.
Simply mix Etch Brite with clear water (we suggest using distilled water), dip your parts in the solution, and watch tarnish and finger prints disappear!
Etch Brite comes in a convenient 3 ounce (85g) jar containing enough cleaning powder for over 15 one cup (236ml) batches of solution. The solution may be saved for future use when stored in a sealed container.
Etch Brite is suitable for all brass photoetched sheets, not just those from ParaGrafix. Note, however, that Etch Brite does not work on brass that has been clear coated or painted.
* Although the base ingredients of Etch Brite are non-toxic, they are not handled in a food safe manner. Do not ingest Etch Brite.
Pricing & Ordering