<! -- Sale Specification Settings -->
USS Voyager Photoetch Set
1:677 / 1:670 scale
Available for Preorder
Temporarily Out of Stock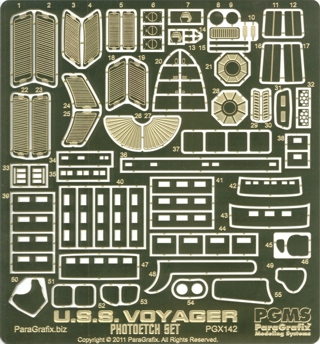 With over 90 parts, this photoetch set greatly enhances one of the best detailed and most accurate Star Trek kits available. Works with the original and special edition versions of the kit
Etched from 0.010" brass, the set includes:
Docking and EVA hatches
Textured transporter emitters
Replacement warp core covers and details
Missing lifeboat covers
Easily masked photoetched window inserts
Replacements for the solid ready room and conference room windows
Impulse engine intakes
In-scale B/C deck "roof" details
Secondary hull landing gear doors
Missing cargo hatches
PLEASE NOTE: There is a minor error in etch part 48. It is approximately 1/32" too long. To fix this error, please file the appropriate amount off the end of the part to make it fit as shown in the photos here.
PLEASE NOTE: The instructions have been revised. If you have questions regarding the placements are etch parts 38, 40, or 44, please click the "Instructions" link below for the latest version.
FOR KIT: Revell Monogram #3604, #85-3612, or 04992
Pricing & Ordering — This item is temporarily out of stock
This item is on Preorder status. Sending in the following form is a commitment to purchase at the price stated below. When the item is in stock and ready to ship, you will be sent a PayPal invoice. Payment of this invoice is required within 7 days to retain preorder priority.
Please note that because of logistics, at this time ParaGrafix does not accept preorders via any method other than a PayPal commitment. We appologize for the inconvenience.
Click Here for the Preorder Email Form.
Price:&nbsp

$25.95

Part #:

PGX142

Scale:

1:677 / 1:670

Please allow 8 to 9 weeks for availability. This delay will not affect any other products you order in this session.

SHIPPING: This product ships at our standard shipping rate. See rate information and policies here.

WHOLESALE: This item is available for quantity sales at wholesale pricing. Contact ParaGrafix for details.

Click on a photo to enlarge.