<! -- Sale Specification Settings -->
Viper Mk 7 Photoetched Cockpit
1:32 scale
Available for Preorder
Temporarily Out of Stock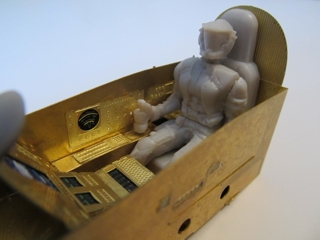 Add a complete, accurate cockpit to the Viper Mk VII model from Moebius Models.
Every button, switch and display from the full-sized Viper Mk VII is included. Almost all items that are lit on the set are through-holes that transmit light if lit*. Plastic film displays are provided for all ship's graphics panels.
The heavy brass photoetch (0.010" thick) is easy to bend for even novice photoetch users. In most cases a tool is not even required to bend - just use finger pressure.
Replaces a single kit part (the cockpit tub, #7) and requires modification to only two parts (the heads up display and the lower fuselage). Otherwise, it's "plug and play".
Includes two sets of engine exhausts - one suitable for lighting and the other for non-lit builds.
* Electronics not included.
FOR KIT: Moebius #916 / Revell 04989
Pricing & Ordering — This item is temporarily out of stock
This item is on Preorder status. Sending in the following form is a commitment to purchase at the price stated below. When the item is in stock and ready to ship, you will be sent a PayPal invoice. Payment of this invoice is required within 7 days to retain preorder priority.
Please note that because of logistics, at this time ParaGrafix does not accept preorders via any method other than a PayPal commitment. We appologize for the inconvenience.
Click Here for the Preorder Email Form.
Price:

$29.95

Part #:

PGX144

Scale:

1:32

Please allow 2 to 3 weeks for availability. This delay will not affect any other products you order in this session.

SHIPPING: This product ships at our standard shipping rate. See rate information and policies here.

WHOLESALE: This item is available for quantity sales at wholesale pricing. Contact ParaGrafix for details.

You might also be interested in:

Click on a photo to enlarge.