<! -- Sale Specification Settings -->
18 inch Enterprise Window Templates
1:650 scale
Available for Preorder
Temporarily Out of Stock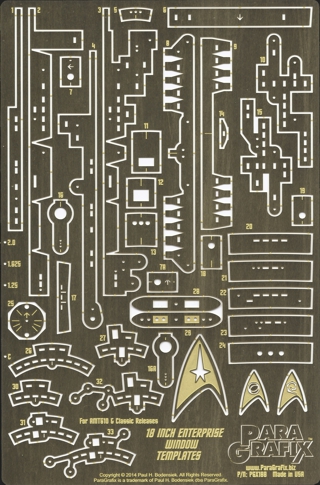 Add accurate, easily lit* windows to the venerable Starship Enterprise kit from AMT with this template set.
This highly detailed set of templates includes window locations for the three variants of the 11 foot filming miniature - the 1st Pilot, 2nd Pilot, and Series Production versions. (The Mirror-Universe Enterprise uses the 2nd Pilot variant.)
Also includes a mini "protractor" to help ensure proper alignment of items on the saucer-shaped "primary hull", as well as a jig for setting the proper radii for drawing or scribing the three grooves on the hull's underside.
* Electronics not included.
FOR KIT: AMT610 & Classic (S951 and 6676) + AMT695 (Reliant)
Pricing & Ordering — This item is temporarily out of stock
This item is on Preorder status. Sending in the following form is a commitment to purchase at the price stated below. When the item is in stock and ready to ship, you will be sent a PayPal invoice. Payment of this invoice is required within 7 days to retain preorder priority.
Please note that because of logistics, at this time ParaGrafix does not accept preorders via any method other than a PayPal commitment. We appologize for the inconvenience.
Click Here for the Preorder Email Form.
Price:&nbsp

$37.95

Part #:

PGX188

Scale:

1:650

Please allow 8 to 9 weeks for availability. This delay will not affect any other products you order in this session.

SHIPPING: This product ships at our standard shipping rate. See rate information and policies here.

WHOLESALE: This item is available for quantity sales at wholesale pricing. Contact ParaGrafix for details.

You might also be interested in:

Click on a photo to enlarge.