<! -- Sale Specification Settings -->
TOS Bridge Photoetch Set
1/32 scale
Available for Preorder
Temporarily Out of Stock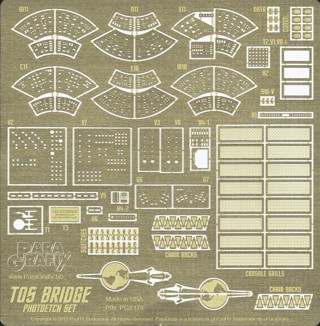 Add extra detail to AMT's classic USS Enterprise bridge kit. Specially designed to work with the newly released full bridge, and the impeccable decals designed by TOS Graphics.
Raised control panels, just like on the original set, include through holes for every button making lighting a breeze.*
Raised switches and "floppy disks" add extra surface texture.
All intercoms are included.
Frames for the alert lights.
Grills with the correct pattern for beneath each station.
The triangular details on the back of each chair.
BONUS: Two copies of the Mirror Universe's imperial insignia. One copy is split in two so each half can be placed on each panel of the turbolift door.
View and print the alignment templates here. (Make sure to turn "fit to page" off before printing.)
* Electronics not included.
FOR KIT: AMT808/12 & Classic
Pricing & Ordering — This item is temporarily out of stock
This item is on Preorder status. Sending in the following form is a commitment to purchase at the price stated below. When the item is in stock and ready to ship, you will be sent a PayPal invoice. Payment of this invoice is required within 7 days to retain preorder priority.
Please note that because of logistics, at this time ParaGrafix does not accept preorders via any method other than a PayPal commitment. We appologize for the inconvenience.
Click Here for the Preorder Email Form.
Price:&nbsp

$33.95

Part #:

PGX178

Scale:

1/32

Please allow 2 to 3 weeks for availability. This delay will not affect any other products you order in this session.

SHIPPING: This product ships at our standard shipping rate. See rate information and policies here.

WHOLESALE: This item is available for quantity sales at wholesale pricing. Contact ParaGrafix for details.

You might also be interested in:

Click on a photo to enlarge.