<! -- Sale Specification Settings -->
NEW!
Enterprise D Power Conduit Trench Covers
1/1400 scale
Available for Preorder
Temporarily Out of Stock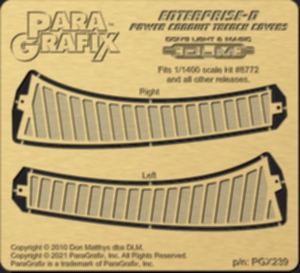 ParaGrafix is pleased to announce that we have purchased the rights to Donís Light and Magicís classic Enterprise D Power Trench Covers. We manufactured these parts for DLM for about a decade before Donís untimely passing.
This photoetch set allows the builder to run wires to the warp engines despite the kitís solid warp engine pylons.
The two photoetched pieces replicate the details that have to be removed when routing out a channel through which to run wires for the engines, the Bussard collectors, and running lights.
As a bonus, each piece is designed so that it can be used as a common ground lead, reducing the number of wires that have to be run through the channels.
FOR KIT: AM #8772 and all rereleases
Pricing & Ordering — This item is temporarily out of stock
This item is on Preorder status. Sending in the following form is a commitment to purchase at the price stated below. When the item is in stock and ready to ship, you will be sent a PayPal invoice. Payment of this invoice is required within 7 days to retain preorder priority.
Please note that because of logistics, at this time ParaGrafix does not accept preorders via any method other than a PayPal commitment. We appologize for the inconvenience.
Click Here for the Preorder Email Form.
Price:

$19.95

Part #:

PGX239

Scale:

1/1400

Please allow 3 to 4 weeks for availability. This delay will not affect any other products you order in this session.

SHIPPING: This product ships at our standard shipping rate. See rate information and policies here.

WHOLESALE: This item is available for quantity sales at wholesale pricing. Contact ParaGrafix for details.

You might also be interested in:

Click on a photo to enlarge.